For those that missed tonight's RodeoChat with Wolf Creek Cattle Company's handy man – Reece Arnold here is the full chat posted below! Enjoy 😉
Here's a picture of "Joe's Boot Shop Bad Blake" Reece sent me earlier today.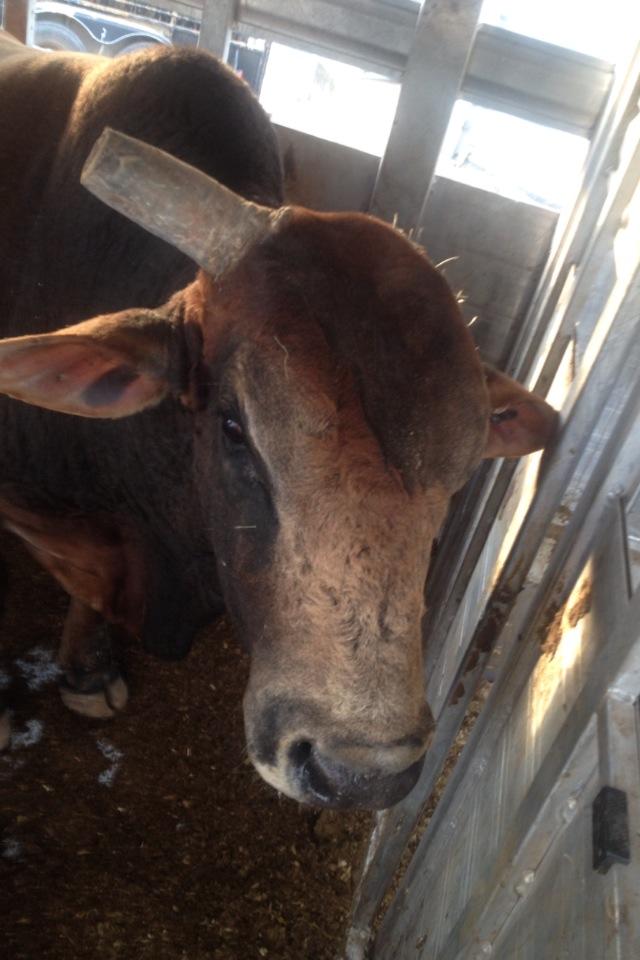 Question 1: Let me get this right.. You're the livestock manager at Wolf Creek Cattle Company.. Correct? What kind of training/requirements did you must have to get this job?
It was more of an experience type deal than a requirement. I had worked for several other contractors so that helped a lot.
Question 2:  What kind of expierncene did you go through? What's the biggest challenge of being a livestock manager for wolf creek cattle company?
The biggest challenge is keeping everything healthy and bucking out on the road. Lots of trial and error. It is always something
Question 3: what bull on Wolf Creek Cattle Company ranch have you had the most trial & error with?
There is a bull branded T90 that came from JW Hart that has sure made me learn the art of patience. But god willing we got it
Question 4: as a livestock manager you have a pretty heavy-duty schedule! When you get free time what do you like to do for fun?
when I do get free time I am looking for more bulls that is what makes me tick.
Question 5: What bull have you had out the longest on a run?
694 Multimin 90's Dark Shadow he went from Connecticut to Idaho last year, and Luke Snyder was 90 on him.
Question 6: When you haul bull's around the world do you travel with another person or alone?
Yes, I have a truck driver and it is the Oklahoma bad boy's Austin Meier dad Rex Meier.
Question 7: How many bulls does Wolf Creek Cattle Company have? An what bull have y'all had the longest at the ranch you work at?
We have about 70 bulls total and we have had a bull branded 8316 rio bravo he is part of the "Diamond Cross Rodeo Team"
Question 8: You've just gotten off the road from taking Joe's boot shop bad Blake from the DR. How's that go for y'all?
It wasn't so bad for an 800 mile round trip. I was awfully happy to have my buddy home. It is easy to get attached.

Question 9: How many of Wolf Creek Cattle Company bulls will you have competing in the 2013 PBR season?
There will be 15 headed to PBR NYC and about 40 head total that will travel throughout the year.
Question 10: What bulls of Wolf Creek Cattle Company can we expect to see in PBR NYC this year?
Chuck Swisher helped out with this question as well! Chuck said, Bad Blake is short round bound. The new one horned wonder.
Reece: 90's dark Shadow. Joe's Boot Shop bad Blake. Slippery Devil. Hot Box. Whiskey cures ugly prom night. Shockwave. Skatman hou. Tap Out. MVP. Brazilian Proof. Russian Roulette. Tribal Tuff. Bikini Jitters. Night Deposit. Custom Chrome.
Chuck, recently helped out Reece out at Wolf Creek Cattle Ranch with some new young gun bull's breaking out in the Rodeo scene!
Question 11: How long does a bull stay on the road (on average) ?
On average we will make runs of about 2 weeks. There are some bulls that can stay out longer and some that can't. Also, maintenance of the bulls and keeping them prepared along with a proper diet and exercise will keep them strong on those long runs.
Hope everyone joined tonight's RodeoChat with Wolf Creek Cattle Company's Handy Man – Reece Arnold! To keep up with Reece, and wolf creek Cattle Company check out their Social Media Sites:
Facebook: http://www.facebook.com/pages/Wolf-Creek-Cattle-Co-LLC/140525586089049?fref=ts
Twitter: @WolfCreekBulls
Google + : https://plus.google.com/u/0/100366781723720007907/posts
Hope everyone has a great weekend!
– Paige Gregory
@21RockinCowgirl
@RodeoChat
Google + : https://plus.google.com/u/0/108226477716652086803/posts?tab=XX
RodeoChat Community Page on Google +:  https://plus.google.com/u/0/communities/107135950085032362385